Let me tell you what to think...
Mar 04
Film Review: "Safe House" (2012)
Let's face it; action movies are not what they used to be. I'm referring to out-and-out action movies, not the spy genre where the James Bonds and Mission: Impossible are filed, but the likes of Lethal Weapon, Die Hard, The Last Boyscout, Schwarzenegger and Stallone. Sadly, it's a dying breed with only lightweight imitations such as the Fast and Furious seriesor Jason Statham conveyor belt of tripe to keep the explosions and gunplay alive.
With Safe House we have a full-on action film that, for the most part, delivers. The film's simple story stars Denzel Washington as the brilliantly named Tobin Frost, an ex-CIA operative who has gone rouge and has files on the organisation which could bring it to its knees. Ryan Reynolds plays a rookie CIA agent who is a 'house sitter' for a CIA safe house in Cape Town, where the film takes place, where Frost is brought in for questioning once he is caught – no spoiler here if you've seen the trailer. As is always the case, things don't go to plan and the two stars are paired together for the next 90 minutes to work out why.
From beginning to end, Safe House is packed with action that is fast, violent, frantic, brutal, and relentless. The action scenes, however, while not particularly new or inventive are filmed with real purpose and executed with style and finesse; the sound effects editing is superb and adds real bite to the numerous smash, bangs, and booms which come thick and fast and was even too loud at times in the screening I watched. First time director Daniel Espinosa's style undeniably owes credit to both Tony Scott and Paul Greengrass, but the film is never a direct attempt to be a knock off of anything else and the location of Cape Town is a refreshing change from the usual cities we see in action pictures. The film is certainly more like Man on Fire Scott and The Bourne Ultimatum Greengrass than Domino or Green Zone.
 Washington and Reynolds make a fine team, and this is possibly the best I've seen Reynolds and delivers a much needed change in quality from him in comparison to last year's woeful double bill of Green Lantern and The Change-Up. Washington, for the most part coasts through his slightly underwritten role but a coasting Denzel is better than many actors at the top of their game. I for one still go to see a film primarily if I like the actors' or directors' previous work and not on the best-selling book or TV show it might be based on, and Safe House uses its star power to good effect.  
Moreover, where as Washington and Reynolds have a key role in the film's success, the supporting roles are drastically underwritten; but this wouldn't be so noticeable if they weren't played by such talented actors (Brendan Gleeson) and actresses (Vera Famiga). The 'twist' in the final act is also so plainly obvious that you know it's coming from the very start and just isn't needed in films like this; that's why screenwriter David Guggenheim is no Shane Black quite yet. Also, the title 'Safe House' isn't really justified as not even a third of the film is set in the actual safe house, but it certainly sounds cool.
Safe House is certainly not a perfect action picture, but is far superior to most of the genre of recent years and that in itself is high praise indeed.
Morbometer™ 7.7 OUT OF 10
Feb 26
Film Review: "Chronicle" (2012)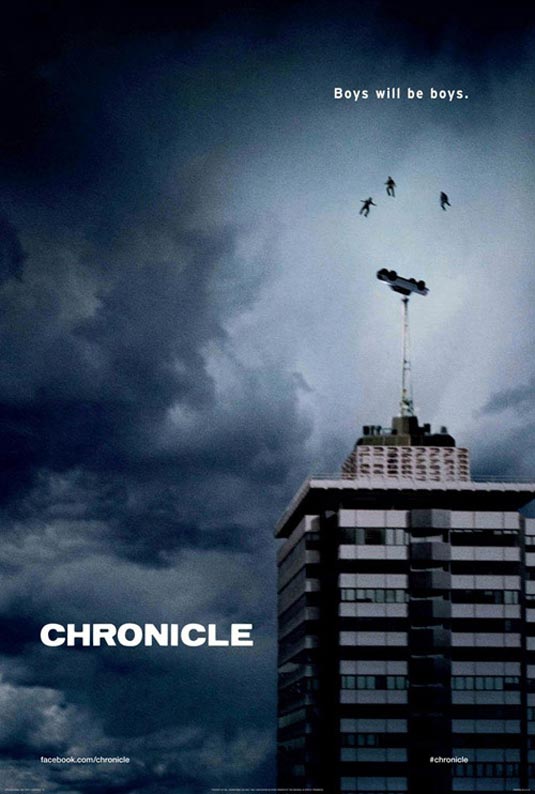 Every year comes a few films from which the trailer does no justice at all, yet turn out to be far better than anyone expected. Chronicle looked to me like a superhero film for the Twilight generation but after some positive reviews from my trusted sources I decided to take a trip and see it at the cinema.  This will go down as the surprise hit of 2012 and may end up being one of the year's best films.
Three high school teenager boys find a hole in a forest and in that hole is a, seemingly, alien rock which when they come into contact with it, they develop telekinesis. From here on, we see the boys develop their new powers at different stages from moving Lego bricks, to moving cars, to eventually flying. One of the boys, an outsider, users his powers to get back at the world which has rejected him, and this is where the film gets really good – but my reviews aren't here to tell you what happens but to tell you why a film is good or not, so here ends the plot spoilers.   
Essentially this is a superhero origins story; powers given to those who didn't want them, some use it for good, some for bad, first it's a secret then the world finds out. The twist in Chronicle is that the characters don't want to do anything with their powers; no costumes, no masks, no secret identities. The guys are just content with flying and moving objects at will – pretty cool stuff regardless what age you are. But, the story takes on an X-Men style arc as the outsider becomes more powerful and the superhero element continues.    
 The key to Chronicle's success is in the pacing, character arcs, and plot development; far too many sci-fi/ action/ CGI-heavy films simply blast the audience with massive action scenes at the start, middle, end and all the areas in between. Writers no longer know that what we want to see is an increasing scale of action, not to show everything at the start and only go on to repeat the formula for another 90 minutes. Writers Gary Trank and Josh Landis have surprised and delighted me with this well thought out and carefully planned screenplay where it would have been all too easy to throw all the tricks at the screen from the start. In doing so, the characters are given time to develop in front of our eyes and by the time the final act comes, we're ready to believe what happens would happen (in the reality of the film of course).
The CGI in the film is fantastic and as good as most $100 million productions; in the final act, where downtown Seattle is the scene of chaos, the CGI element is ramped up to 11 (to borrow the well known Spiral Tap quote) but this works because the finale isn't just a bigger, extended version of the previous 60 minutes; it's a true payoff worth waiting for that you don't see too often anymore.
The film's main problem lies in the handheld camera footage. This isn't because it's 85 minutes of 'shaky cam' because this is never the case, but because the film simply grows into something far superior to any 'found footage' rubbish that has plagued our screens over the last few years; Cloverfield as an exception. Moreover, the camcorder footage is never even explained nor are we told why we're watching it unfold in this way; I was expecting an explanation at the end as to why we are seeing this story from, what ends up being, multiple camcorder, CCTV, and network news cameras. Without spoiling too much, I think the film needed a character to have compiled, or 'chronicled' if you will, all of this footage and presented it to us either at the beginning or end; one of the peripheral characters, a girl whose blog footage we watch part of, would have made the perfect candidate to make this happen.
Some of the techniques the film makers thought up to allow all the characters to be on screen at once are very clever, most significantly the ability to make the camcorder float, but I truly believe the film would have been even better if it were shot as a traditional narrative with 'home footage' inserted at key moments – most notably when the first learn to fly. I said that Chronicle grows into something far better than camcorder footage can allow, and the film's brilliant climax is slightly hampered from an enjoyment perspective if you question how this footage is being caught; there are times when it's not explained and is purely delivered from a movie camera, which is fine but goes against what the film makers set out to do. This also ties into my original fears that the film was for the teenage market because of the 'found footage' angle. It's not needed and should be reserved for cheap trashy horror flicks.
Chronicle is a great film, better than it perhaps even ought to be, and comes highly recommended. It's also one of the few films I've seen for many years from which not only would I welcome a sequel, but one which truly deserves and warrants one.
Morbometer™ 8.3 OUT OF 10
Feb 19
Film Review: "Ghost Rider: Spirit Of Vengeance" (2012)
I must start this review by saying I'm a fan of the 2007 Ghost Rider. It was big budget, had great effects, was both dark and humorous, and saw Nicolas Cage take on the role he clearly loved. Sure, the story was hampered by a lack of a good villain and perhaps too much backstory before the Rider is unleashed, but for a second-tier comic book movie, it hit the mark. And by second-tier, I refer to the film never hitting the heights of Superman: The Movie, Batman, The Dark Knight, or X-2 but far superior to such disasters as Iron Man 2, Thor, Fantastic 4, or Green Lantern.
The first movie took a healthy $45m on its opening weekend in the US and went on to a decent final tally of $228m worldwide, so a sequel was inevitable and for me as huge Nic Cage fan, very welcome. However, five years have passed and Cage's career has taken a nosedive in terms of quality with only 2009's Bad Lieutenant: Port of Call New Orleans and Know1ng worthy of his supreme acting talent and A-list status. Can a Ghost Rider follow up put him back up where he belongs?
The answer is… not really. The problems with Ghost Rider: Spirit of Vengeance are the same as the first film; no decent villain, a storyline that doesn't grip, and no huge set-pieces to  put the film in the audience's memory after the credits have rolled. What the first film had, however, was a lot of fun and a solid (if workman like) direction and style. This latest film suffers terribly from the non-stop and incessant jumps and cuts and upside down camera movements that would make Michael Bay proud; why the directors feel the need to speed up 2 seconds of footage of a crowd of people walking  or a car moving at 30mph, only to resume normal speed again is beyond me. It makes no sense in terms of the story, characters, or action. In other words it is 'style' for style's sake and it is not welcome for it not only adds nothing to the experience and brings too much attention to itself; all the hallmarks of filmmakers who have no idea about what an audience wants to see. Mark Neveldine and  Brian Taylor were behind the utter trash that was Crank and Gamer; films which should never have been made and whose audience are not those who want to watch a Marvel adaptation. Sadly, the story is so pointless I forgot what was happening or why half way through, so not even a Spielberg/Scorsese combo could have saved it.
And as for the 3D… The definition of pointless. I'm not one to want things flying towards the screen for the sake of the 3D 'experience', but there was nothing in this film which warrants the 3D upgrade you'll be forced to pay for. If you think the Ghost Rider's chain is going to hit you in the face, think again.
The elements which are out of the directors' hands are the ones which make the film work and are the saving graces. Firstly, the CGI is excellent and the new design of the Ghost Rider is an improvement on the first film as he looks meaner and more menacing and his clothes are now also burnt which I thought was a nice visual touch. Also, we get to see Nic Cage as Johnny Blaze (Ghost Rider in human form) trying to contain the Rider from coming out, like Bruce Banner does before he turns into The Hulk; the effects show his eye sockets turning black and his skull breaking through his skin, which again is a nice visual change from the original. In turn, this also give Cage a chance to let loose his crazy side, which has been kept under wraps for too many films and this is what he does better than anyone else. Also, the lack of Eva Mendes means the film isn't weighed down with romance which is a major plus.
Ultimately, by the film's end you wonder what the point was and if this was really the best use of the Ghost Rider character that they could have come up with. I highly doubt it.
Morbometer™: 4.5 OUT OF 10
Feb 18
Film Review: "A Dangerous Method" (2011)
Director David Cronenberg's career has taken a different path over the last decade; gone are the low budget bodyshock horrors of Rabid, The Brood, and Scanners of the 1980s and with 1996's Crash, he made one of the most controversial films of all time but with it brought a new audience – myself being one of them. Cronenberg continued to explore the darker side of the human psyche with Spider in 2002 but his first mainstream success came with the surprise hit A History of Violence in 2005 which explored two of his main themes in identity and the violent nature of man but in a way much more accessible to mainstream audiences.
A Dangerous Method is a film which, on the outset, you may not associate with Cronenberg; a period piece set in the early 1900s, real life characters, no trace of physical violence or death, and no gore whatsoever. However, this is classic Cronenberg, just with the visuals turned down and the dialogue turned way up.
The story begins when, what we believe to be a highly disturbed young woman (Keira Knightly) is brought to the attention of Karl Jung (Michael Fassbender) who is in the early stages of his psychoanalytical career. He vows to help cure the woman with his 'talking cure' and in doing so turns to the already highly respected figure of Sigmund Freud (Viggo Mortensen. The 'danger' in their 'methods' is multilayered as Jung risks his marriage and happiness when he begins an affair with the cured patient; their relationship is underpinned by a sadomasochistic sexual connection stemming from the beatings her father would give her. His relationship with Freud begins friendly enough, but the two men soon become rivals and disagree on the methods to cure their patients and Freud's several comments about anti-Semitism are a warning to the dangerous that would come in 30 years time.
The acting is solid throughout and my choice for the best performance goes to Knightly. Her performance starts as a very physical one with the jutting jaw and contorted body of an insane woman, but as the film moves on, so does her performance to one of nuances and a maturity I've not seen from her before. Maybe it took a great director and wordy screenplay to get the best out of her because Pirates of the Caribbean this is not. Man of the moment Michael Fassbender gives yet another worthy performance to match his work in Shame and Viggo Mortensen and Cronenberg are starting a Di Caprio/Scorsese relationship with this being the director's third successive film with the actor; each one requiring a different approach from Mortensen and giving him something to put his abundance of screen presence to good use. I have no doubt that in Mortensen and Fassbender we have two future Academy Award Winners.
This film isn't for everyone because it is very wordy and devoid of almost any excitement from the story. But what is exciting is in the performances and the subtle dangerous which come to light as these three people meet. This is well worth anyone's time who has a a mature enough mind for such cinema.
One final thing: Is the final shot a homage to The Godfather Part II? Both films show their protagonists sitting in a chair, broken men on the inside but knowing they must not show it. "Sometimes you have to do something unforgivable, just to go on living" says Jung. Michael Corleone knows all about that.
Morbometer™: 8.1 OUT OF 10
Feb 16
Film Review: "The Muppets" (2011)
For sheer entertainment value, you don't get anything better than The Muppets. From their TV origins on Sesame Street to their big screen features such as The Muppet Movie and The Muppets Christmas Carol, everyone who can call themselves human loves these furry creatures. If you don't, then you're heart is made of stone and your soul belongs in Hell. OK? Good.
So, it is a great pleasure for me to say that latest adventure for Kermit, Miss Piggy, Fozzie Bear, Gonzo and the rest of the gang is a runaway success in all departments. The film is a non-stop treat with its songs, gags, nods and winks to the audience, Muppet heritage, and humour which both adults and kids can savour and enjoy. It is a stroke of genius that these characters have made us smile, laugh, and cry for over 40 years (well, 20 something for me) and still be as fresh and invigorating as they are today.
All credit goes to Jason Segal and Nicholas Stoller (whose past writing credits include some dire films) for finding the heart of The Muppets and bringing them back with a purpose. This isn't just another kids film made for the SOLE purpose of making money in the way that Cars 2, Rio, Ice Age 4, and all those terrible Shrek films are; this film loves its characters and respects its audience. No one will leave the cinema with anything other than a huge smile. It's impossible not to like this film. Moreover, gone is the cynical humour of the Shrek films and the action-packed CGI of pretty much any kids film I've seen (or seen trailers for) recently. This film doesn't rely on that because it has too much to offer rather than to fall back on attempts to 'dazzle' the audience with chase after chase after lame joke after lame joke.
Moreover, Kermit et al have been off our screens for too many years, and the story takes this into account, too; the gang have abandoned each other, and it takes the determination of one such Muppet, named Walter, to bring them together again to save the Muppet studios from falling into the hands of Tex Richman (best character name of the year) with a live reunion TV show. By the end of the film, you hope this will be the first of many more big screen adventures to come.
Any fans of TV's The Flight of the Conchords will appreciate this film's songs and quirky tone from one of that show's stars, Bret McKenzie. The Academy Award nominated song 'Man or Muppet' is both hilarious and moving at once. Other songs and dance numbers are just as funny, but this is a song with real heart, just like the film.
Morbometer™: 9.0 OUT OF 10
Feb 06
DVD Review: 'Perfect Sense' (2011)
The first thing to go is our sense of smell. Then we start to cry uncontrollably. Then an insatiable hunger as our sense of taste disappears.
In Perfect Sense, the question of 'what makes us human' is asked as a mysterious virus begins to infect the world and take away our senses, and no one is safe. Are we defined by what we hear, see, smell, taste, and touch? Could we love and connect with those around us if we lost these senses? In the film, we focus on the start of a relationship between a chef (Ewan McGregor) and a scientist (Eva Green) who are just two typical people living in Glasgow who get struck by the virus and the results are very melancholic, sad, thoughtful, and, for the most part, the film works due to its originality and realistic portrayal of human nature.
The virus is never explained, but is a mere MacGuffin for director David Mackenzie to ask us; would you embrace the senses you had left, or would you turn to anarchy? What kind of human are you and what do you think of fellow man? McGregor and Green have more ups and downs in this film than most married couples have in 50 years, but the extreme emotions they are feeling are very well played out and this is McGregor on rare form as he conveys an 'average guy' expertly well and we feel genuine sympathy for him as their happiness is put in jeopardy. The script is full of realistic dialogue in the way two damaged people might actually talk; most notable was the scene where Green asks him to tell her 'something to make her feel special'. He tells her that he left his fiancé when she became critically ill and does so without any remorse and in return she tells him he is an asshole and he agrees, not putting up any protests. I found this to be refreshingly honest and open as here are two characters showing real life characteristics, not false creations. 
Mackenzie has filled his film with interesting images and as each sense goes, we get a real understanding of how this might affect the key characters and the panic builds at an organic pace, never rushed. The final scene, when the two lovers are moments away from blindness is as touching as anything I saw last year and a perfect way to end the film both visually and thematically.
The film undoubtedly works most credibly when the attention is on McGregor and Green, and less so when the action spreads to the rest of the world in some montages of still images, and actual footage of humanity at its most destructive (war, fighting, looting). I found some of this to be borderline preachy as I don't want messages that humanity can be harmful to its own survival rammed down my throat from what is, otherwise, a very intelligent and thought-provoking film. 
Morbometre™ 7.0
Feb 01
Film Review: "Coriolanus" (2011)
William Shakespeare's Coriolanus might not be the most famous of his plays, and certainly isn't, in my opinion, as loved in popular culture as Hamlet, Macbeth, Romeo and Juliet, or Much Ado About Nothing; I was surprised, then, when I saw it was to be brought to the big screen in a modern day setting. With Kenneth Branagh (the usual go-to guy for Shakespeare adaptations) making a mess of CGI settings and struggling with a dire story in Thor, this marks the directorial debut of fellow Brit and 'thesp' Ralph Fiennes. And what a debut it is.

There is nothing I enjoy more than seeing directors and actors who fully engage and understand the world of the film they are making, and can immerse themselves in the material. Fiennes clearly knows what a modern version of this story should look like and his understanding of the play's themes and its pulse is evident from the start and never lets up. The film is packed with talent and Fiennes has surrounded his production with some of the industry's finest.
Telling the tale of a war between the Romans and the Volscians in modern day urban war zone, Fiennes shoots his film entirely handheld and the style works well and is effective at all times; whether it's putting the viewer in the battles as the bullets fly, or amongst the politicians and family as the drama reaches boiling point. The film's opening half an hour is electrifying stuff and looks like a sequel to The Hurt Locker and is just a exciting; the sight of Fiennes as Caius Martius (later to be titled Coriolanus) in full military gear with guns and knives with another man's blood covering his bald head is one of the most striking images I'll see all year. However, the film is certainly not an action picture and the second half is far more talkative but in these scenes the actors deliver the thrills as we watch the likes of Jessica Chastain (fast becoming my favourite actress), Brian Cox and Vanessa Redgrave (the film's best performance) hit all the right marks and, again, show an understanding of the play and the themes, and most importantly, the language. There is nothing more embarrassing than an actor who can't deliver Shakespearian dialogue if called upon to do so. Even Gerard Butler walks away with his head held high, which is a miracle in itself.
Coriolanus may look like great with its handheld style and urban settings and all star cast, but it is for the more 'mature minded' audience who want to think about the character's motivations and reasons for doing what they do, rather than having it spoon fed to them. If you don't have the attention span for its 122 minutes, or think that everyone has to swear or say 'like' after every other word, then this may go over your head. If however, you can embrace the language, the politics, and appreciate how these can translate to 2012, then Coriolanus is the ticket for you.
Morb-O-Metre: 7.6 Out Of 10
Jan 23
Film Review: "War Horse" (2011)
The poster for War Horse tells us that horse and boy are 'Separated by war. Tested by battle. Bound by friendship'. So why is it that even the Greatest Film Maker of All Time™ can't make us care for either boy or horse, or any other character appearing over the course of 2 and a half hours?
War Horse has it's problem rooted in three areas:
1. The story is far too episodic to allow the audience to feel emotion or engage with any of the human characters. If you did, then they're off screen again as the horse moves on to its next owner. This is bad enough, but then some of these characters which you didn't get the time to invest in reappear at the end for one great big mushy conclusion… only you don't care by that point. The action scenes are not epic nor are they particularly shocking or hard-hitting. Spielberg set the bar so high in Saving Private Ryan that anything else he (or anyone else for that matter) makes in mainstream film will be compared to it and is destined for failure. The action scenes are fine, but they felt as if they were shoehorned in to give the film any degree of excitement. In another film of World War One, these may have made more of an impact but in War Horse, they add little to the proceedings.
2. The film doesn't know its audience. It's too dull and slow for kids; not emotionally engaging enough for adults; not exciting enough for the average popcorn-munching viewer; and nowhere near the standard you'd expect from Spielberg for anyone going to see it because he's the director.
3. This point hurts my fingers to type it, but it has to be said… The holy trinity of Spielberg/ John Williams/ Janusz Kaminski is simply too overpowering in War Horse. The trademark Spielberg angles, Kaminski's oranges and browns, Williams' cues telling you when to start crying… Too much emphasise on trying to make the audience feel something, rather than actually making them feel it with a better story, less characters, less corny dialogue, and half an hour less footage.
Despite all of the above, War Horse is far from a terrible film and never reaches the depths of Spielberg's worst film, Hook. It looks beautiful throughout and the sets and attention to detail of the trenches are excellent. However, it just does not work as effectively and as functionally as we've come to expect from the team involved.
Morb-O-Metre: 5.1 OUT OF 10
Jan 22
Film Review: "The Artist" (2011)
Modern audience may struggle to realise the medium they are watching at the multiplex started without the aid of spoken words and only a musical score to accompany the picture. Sadly, some won't have even seen a film in black and white. The Artist is both silent and black and white, and even filmed in 1.33:1 aspect ratio. To those not familiar with aspect ratios, 1.33:1 means (in crude terms) the sides of the cinema screen are not filled, with the film looking like a 'box' rather than the usual full screen (typically 1.85:1 or 2.39:1) that we are used to. The effect works well in The Artist because that is how films would have looked in the 20's and 30's and is (literally) the first signs of director Michel Hazanavicius' intention to make his film standout from anything else you've probably ever seen at the cinema before.
I'd like to point out that 1.33:1 is rare in modern film making but not unique to The Artist; watch Meek's Cutoff, also released in 2011, to a truely jarring effect of the ratio. But I digress.
The (near) total lack of spoken word, 1.33:1 ratio, black and white, and a non-stop musical score make The Artist a refreshing and welcome change to modern cinema releases. It is funny, sad, charming and reward the viewer with almost every scene it gives us. I cannot praise the lead actor Jean Dujardin enough for his performance; his face expresses every word we do not hear and that is a talent in itself, and moreover he and the rest of the cast give such strong and understanding performances, knowing the director's intention to remove the sound, that everything makes perfect sense. I say this because the amount of times I get lost in a film's plot because the dialogue or performances don't ring true, or the direction doesn't allow me to follow or believe what I'm seeing, is far too high these days. The Artist is a simple plot told exquisitely well and is a delight to watch.
For a film which takes its origins from the silent era, it was interest to watch the director's choice of lens, angle, and film stock. The Artist doesn't look or even attempt to look as if it were made in the 20's or 30's but does have an undeniable revisionist feel to it. It is clearly a modern film set in the past and it looks great, unlike, say, Steven Soderbergh's The Good German which presented itself as a film made in the 1940s using the camera and angles and effects of the period. Soderbergh's film did not work despite being a brave experiment, but I was happy to see The Artist not falling into the same pretentious trap.
Had I seen The Artist last year it would certainly have made my top 10 of 2011, and I hope it gets all the awards it deserves. It is not without its faults, and I think the film works better in its more lively and happier scenes rather than when it gets more serious, as it does in the second half and loses some of its appeal by getting hampered with too much emotion. This is a minor criticism of an otherwise splendid piece of film making.
Morb-o-metre: 8.8 OUT OF 10

Jan 21
Film Review: "Haywire" (2012)
Steven Soderbergh is many things. He is one of the most pioneering directors of digital filmmaking working today and he can squeeze every penny out of a small or large budget. His frames are always interesting, his colour pallet vivid and striking, and he never allows himself to be mundane or obvious strives to challenge himself with new and fresh material, with the 'Ocean' trilogy as his only franchise and money-spinners. He is one of my favourite directors.
Having said all of that, it pains me to not have enjoyed his latest project, the supposed action/spy thriller Haywire. If anything, to me this is his weakest film to date.
The core reason, ironically, is because of all of the afore-mentioned reasons why I love his work so much but in Haywire it just did not work for the genre. This is his first attempt at the spy/thriller/espionage genre and he is hinder by a lifeless, dull, and stagnant script which, despite a decent opening 20 minutes, wastes away to nothing rapidly. I could not invest in any of the characters or their motives, especially the lead, Mallory the hard-done-by agent who is out for revenge for reasons I never really cared about. She isn't the first and she won't be the last; it surprised me Soderbergh was attracted to such a by-the-numbers story. 
The film is filled with recognisable faces but Michael Douglas and Antonio Banderas are there to add gravitas to the poster and Ewan McGregor, Channing Tatum, and debutant Gino Carano deliver their lines like we're watching rehearsal footage. It's poor dialogue delivered badly. Channing Tatum has the on-screen charisma of a burnt match and is about as useful; I'm saddened to see he has the role in Soderbergh's next picture, Magic Mike.
Soderbergh's usual experimentation with colour, filter, framing, and editing are all on-screen in Haywire but only serve to hid the bland story and his inability to stage a fight scene with art-house pretensions. The fight scenes look like rehearsals of what was to come and never for one moment did I feel any enjoyment or excitement. I'm all for his usual style when the story and characters serve its purpose but Haywire, like Ocean's Twelve, is not the right material for that. Moreover, I want to make a point about digital filmmaking and it's cinematic qualities; this film looked out of place on a big screen, the Red One camera makes the lighting look too flat and almost too real, taking away any cinematic qualities the film may have had. I might enjoy this film better on TV, but the initial damage has been done. I do not and never will advocate digitally downloading new releases, but films which look like Haywire should have their place in that medium.
I don't want or expect all spy films to copy James Bond or The Bourne trilogy and this is not why I'm against Haywire. I like a welcome new styles to familiar stories, but if they don't work then it's a case of "nice try, but better luck next time". The final line in the film is "shit", which doesn't quite sum up Haywire, but is too far from the truth either. Sorry, Steven, but you set yourself up for that one.
Morbometer™: 4.2 out of 10